As a small business, you depend on the steady stream of holiday shoppers that come through your doors, not just to fill their bags with holiday gifts but fill the cash register and boost your profits for the entire year.
With the holidays comes a bit of added chaos in people's everyday life. People are very busy during the holidays with the normal schedule of kids, school, work, etc., and the added holiday parties, events, food prep, and of course shopping make the time a precious commodity.
Many people methodically plan their holiday shopping trips to maximize their time, bustling from one store to the next in one or two frenzied days, until shopping victory has been declared.
Ok, So Why Update Your Hours?
Holiday shoppers don't want the stress of not knowing if and when a shop is open or closed, and they certainly don't want to drive across town to find out your not open. If that happens, chances are that customer won't be coming back this season, and you risk a negative review or even losing a customer foreverrrrr.
Updating your holiday hours lets your customers know when you are open, removes the uncertainty if you are or aren't open, and… if you have special holiday hours on Black Friday, or you open for Midnight Madness on Thanksgiving, etc. you can use your hours as a powerful marketing tool.
It's easy, so why not do it.
Special holiday hours for your business can be updated on important sources like Google My Business, Yelp, Bing, Facebook, and your own website in less than an hour. If you don't have those sources claimed, it will take a bit longer, but well worth the effort.
To help you out, we've put together a worksheet to organize your holiday hours to make the process of updating your hours easier, as well as simple instructions so you can do it yourself.
Download Holiday Hours Worksheet
How to Update Your Holiday Hours
Below are the top sources for hours for businesses, if you are a restaurant or specialty store you may have additional sources like Zomato or Tripadvisor that may have options for special hours or just to update your regular hours during a holiday week.
Instructions for Google My Business: You can view Google's instructions for Google My Business here.
Instructions for Yelp:
Log in – Yelp for Business Owners
Go to Business Information
Scroll Down to "Special Hours"
Instructions for Facebook: (you can only edit your existing hours)
Login to Facebook
Navigate to your business page
Click on "About" in the left side of the page
Edit Hours
Instructions for Bing:
Login to your Bing Places Account
Choose your business listing
Under Special Hours, Click "Edit Special Hours"
Add Special Hours, Click "Add another" to add more.
Submit, done.
Updating Your Website: Editing hours on your website could be a little trickier, depending on your abilities and how your site is setup.
You should have your hours marked up in schema so that Search Engines can understand the data and display it when searched. (see example below)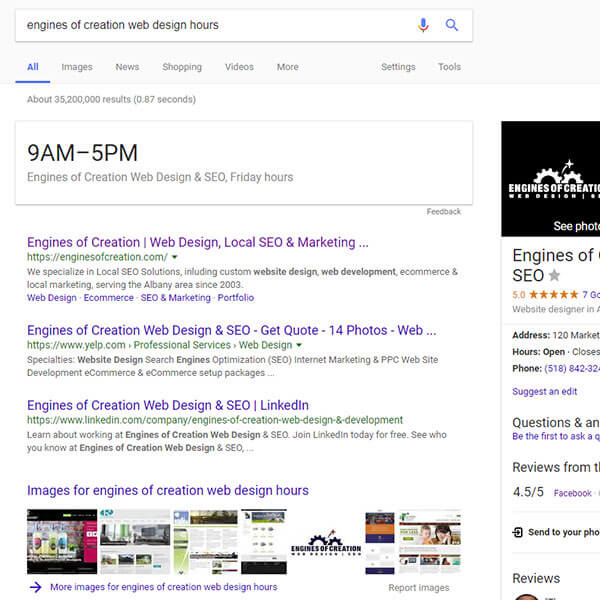 We hope our worksheet and this information has helped you out this holiday, let us know in the comments below or give us a shout out on social media.
Happy Holidays!